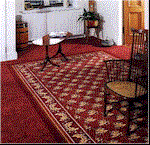 Area rugs have few rivals when it comes to spreading personality around a room. What could be more elegant than an heirloom quality Oriental rug atop a gleaming hardwood floor, or more charming than a handcrafted braided rug on timeworn pine planks. In myriad styles and prices, versatile area rugs set the mood-and more.

Area rugs bring softness and warmth to any hard-surface floor, instantly infuse color and pattern into a space, and make comely cover-ups for soiled or damaged carpet. Beyond beauty, these stage-setters are hardworking design elements. They are great unifiers, sparking entire color schemes.

One of the best decorating strategies is to use area rugs to define specific activity centers within a room, especially important in large rooms and in today's flowing, open-plan homes. For example, let one set boundaries for a conversation area and another to outline a dining spot. Area rugs can be used alone or in conjunction with carpet.


Traditional Area Rugs
Area rugs such as those traditional ones rich in history and hue, like the jewel-toned Oriental rugs are the aristocrats of area rugs and are prized in traditional, formal, and eclectic schemes. Authentic hand-knotted Oriental rugs may take years to create, but can wear well for more than a century. Equally elegant and formal are French classics, such as Aubusson rugs, Savonnerie rugs, and hand-stitched needlepoint rugs.


Flat Woven Area Rugs
Area rugs of the flat woven variety, popular in contemporary and eclectic room schemes are referred to as wool dhurrie area rugs, produced in India for centuries. Sumptuous colors, stylized motifs, and vivid geometry characterize these flat-woven area rugs that are durable and reversible.

Kilims are flat woven area rugs with no pile. Persia, Turkey and Afghanistan offer Kilims in geometric designs, while Besserabian Kilims are floral

in design

.Other picks include Scandinavian ryas rugs, shaggy Greek flokatis rugs, and modern styles in bold, graphic designs.


Braided and Hooked Area Rugs
Colorful braided area rugs, hooked rugs, and rag rugs bring, homey, handcrafted appeal to country-spirited rooms, and antique examples are increasingly prized by area rug collectors. Many area rug reproductions are made by traditional methods and reprise historic motifs, and there are contemporary interpretations in fresh pastels. Another option is the floorcloth, a favorite of colonial America, with designs from primitive era's to formal painted scenes on canvas, jute, or other fabric backing. Painted Sisal is a contemporary rug inspired by 18th century floorcloths.


Antique Area Rugs
If you're shopping for an authentic or antique area rug, research the techniques, materials, and designs of the period and the region of origin, as well as the rug's identifying characteristics. For example, high-quality Oriental area rugs are made of sheep or lamb's wool yarns, hand-knotted through linen or cotton backing. The more knots per square inch, the better the quality. A superb Persian rug may have more than 500 to 1,000 knots per square inch. There are handsome area rug reproductions made on power looms, and less-costly facsimiles with designs printed on the pile surface. Antique area rugs, especially Orientals, are always expensive and often difficult to find. Although good examples turn up at estate sales and auctions, your best shopping bet is a reputable, established area rug dealer.

You might want to consider an antique area rug from a particular region:

Persian area rugs of metropolitan areas differ greatly from those of small rural villages. Urban rugs are sophisticated floral designs with fine knots. Village or tribal rugs are simpler geometric patterns of a coarse weave with bold colorations. Some of the major types include: Tabriz, Heriz, Sarouk, Kashan, Isfahan and Kerman.

Turkish area rugs are mostly tribal, and are generally geometric in design with the exception of a few types such as Hereke - a fine area rug that is made in both pure silk and cotton and wool

Caucasian area rugs feature bolder geometric patterns in bright colors. Antique Caucasian area rugs can be extremely fine and are very valuable.

Pakistan presently produces almost all of the Bokhara area rugs including those in the classic red shades and the new pastel look. Pakistan is also known for the excellent Persian Weave Pakistan. These are similar to the Persian urban area rugs.

The elegant lines of Chinese oriental rugs are indicative of the refined Far Eastern taste. The area rug designs are invariably floral, often incorporating Chinese symbols. They are created from a soft palette with thick piles and broad, uncluttered backgrounds. China is also a producer of Persian design area rugs.

India is a large producer of oriental area rugs today. Similar to the Persian design, owing to the current production they are made in a large variety of styles. Colorations are generally more oriented to the Western taste with pastel's predominant. Antique area rugs from India include Agra, Amritsar and Larestan.


Area Rugs Sampler
From the sophisticated beauty of dhurrie area rugs and Orientals rugs to the homespun charm of rag and braided area rugs, there's something to suit every taste, budget, furnishings style, and palette. Although antique area rug examples rest at the expensive end of the spectrum, there are many reproductions and adaptations of timeless designs available today, and some styles are still handcrafted using age-old techniques. Click below for an international sampler of classic area rug designs.



Accent Rugs | Antique Rug | Area Rugs | Aubusson Rugs | Axminster Rug | Besserabian Rugs | Bokhara Rug | Braided Rugs | Carpet Rug | Caucasian Rugs | Children Rugs | Chinese Rug | Contemporary Rugs | Custom Rugs | Dhurrie Rug | Flokatis Rugs | Floorcloth Rug | Hooked Rugs | Indian Rug | Kilim Rugs | Machine Made Rug | Moroccan Rug | Navajo | Needlepoint Rugs | Oriental Rug | Persian Rugs | Prayer Rugs | Rag Rug | Rug Making | Rug Manufacturer | Rug Restoration | Ryas Rugs | Savonnerie Rug | Serape Rugs | Sisal Rugs | Southwestern Rug | Throw Rugs | Tibetan Rug | Tribal Rugs | Turkish Rug | Turkoman Rugs | Wool Rugs
---